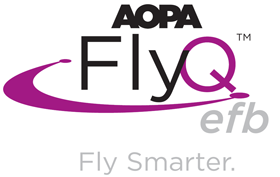 FAQ
---
Do I need an Internet connection for it to work?
Nope. While some things require a connection to the Internet (downloading wx, advanced flight planning, filing a flight plan, download data, etc.), FlyQ EFB is designed primarily as an inflight tool so doesn't need the Internet for much. Unlike the iPhone/Android versions of FlyQ Pocket, FlyQ EFB can even plan flights without an Internet connection (albeit missing a few features). Of course, once weather, airport data, and maps are downloaded, they are available even when there is no Internet connection.
Can I fly in Track Up mode or just North Up?
Take your pick! Tap the Compass button on the map to switch between Track Up and North Up. Or use your fingers to manually rotate the map.
How much does it cost?
FlyQ EFB itself is free.
However, like most aviation apps, you need a subscription to continue using it beyond a 30 day free subscription.
12 Month VFR Subscription $69.99. If you're a VFR pilot, dont pay for IFR data you don't need! Our 12 month VFR subscription gives you everything a VFR pilot needs for all 50 US states. This includes Sectionals, Seattle Avionics digital airport/navaid ChartData™, Seattle Avionics geo-referenced airport diagrams, fuel prices, visual approach procedures, weather, flight planning and more.
12 Month IFR + VFR Subscription $119.99. If you're an IFR pilot, our 12 month IFR + VFR subscription gives you everything you need for safe and legal IFR and VFR flights. This subscription includes everything in the VFR package plus Seattle Avionics geo-referenced approach plates, IFR Low Altitude charts, and IFR High Altitude charts.
Does FlyQ EFB support ADS-B?
Absolutely! FlyQ EFB 1.2 supports free ADS-B weather from the Dual XGPS170 ADS-B + WAAS GPS device and both Sagetech Clarity devices. Additional receivers will be added later.
How Do I Connect my ADS-B Receiver?
Using ADS-B within FlyQ EFB couldn't be simpler.

Dual XGPS 170

The first time you use the receiver you have to connect it to your iPad through a process called Bluetooth "pairing." This is done just once.
Look at the Dual XGPS 170 and make sure switches on the side are set to "Apple" and "ADS-B."
On your iPad, tap the Settings icon.
Tap Bluetooth.
You should see an entry under Devices that begins with XGPS170.
Tap the XGPS170 entry.
After about 10 seconds, the iPad should say "Connected" next to the XGPS170 entry.
Open FlyQ EFB. You should see a message that says "Dual ADS-B Connected"
That's it. From now on, just turn the Dual XGPS 170 on (that is, to "ADS-B") and fire-up FlyQ EFB.
Sagetech Clarity

The Sagetech Clairty devices use Wi-Fi to communicate with the iPad so no Bluetooth pairing is required but your iPad does have to be connected to the Wi-Fi network that the devices create.
On your iPad, tap the Settings icon.
Tap Wi-Fi.
Select the network that has 'Clarity' in the name.
After about 10 seconds, the iPad should show as connected to the Clarity network.
Open FlyQ EFB.
Tap the Settings button and swipe the list up so you can see the Devices section.
Turn the Clarity ADS-B selection on. It may take a few moments for FlyQ to recognize the device.
Synthetic vision? AHRS?
Built-in, no additional subscription required. On the map, tap the 3D cube button. Be sure to use the Data Manager to download terrain data ahead of time. Add the Sagetech Clarity SV or the Levil AHRS for true synthetic vision including yaw, pitch, and roll.
Terrain and Obstacle Warning?
You bet. On the map, tap the Layers button and turn Hazards on. Dangerous terrain and obstacles become red if they're at or above your altitude (actually within 100 ft) and become yellow if you're within 1,000 ft. of them. You also get extremely clear, specific warnings for obstacles dangerously in your expected flight path.
Obstacle and terrain warnings work in both 2D and 3D mode.
Can I show a map and an approach plate at the same time? Two maps?
Yes and yes. Tap the Split button located at the upper left of the screen to toggle between single-screen to split-screen modes in either Portrait or Landscape orientations.
Can I rubber-band flight plans?
Absolutely! Just press and hold over an existing point to move it or press and hold near the flight plan line to insert a new point between two existing points.
Can I measure distances?
We make that super-simple. Just double-tap anywhere on the map and the "Nearest" pop-up you'll see shows the distance and bearing from your current position to everything near your double-tap. No two-finger gimics.
How do I see information, such as frequencies, about airspace?
Just double-tap the map. Part of the "Nearest" pop-up graphically shows you what the airspace looks like under your tap. A small aircraft icon even makes it simple to know if you're over, under, or within each class of airspace. Tap the Airspace graphic for more details, such as frequencies.
My aircraft isn't in the list
Sorry about that. If you send an email to Seattle Avionics Technical Support with the manufacturer, model, and FAA/ICAO TYPE identifier (like a Cessna 172 is TYPE C172), we'll try to add it for the next release.
In the meantime you can select Experimental as the Manufacturer then pick High, Medium, or Low Performance as the Model. Not ideal but it gives ATC what they need.
How do I delete flight plans?
From the list of flight plans, tap the Edit button at the top of the screen then tap the - button next to the flight plan you wish to delete and confirm by tapping the Delete button.
Alternately, once you open the flight plan (that is, see the NavLog), tap the button that looks like a box with an arrow coming out of it (Apple calls this an Action button). Delete is the first choice but you can also use this to print or email the flight plan.
I have a Seattle Avionics Voyager account. Do I need to buy anything else?
Thanks for being a Seattle Avionics customer; We really appreciate it.
FlyQ EFB was created by AOPA and Seattle Avionics. However, it is sold by AOPA not Seattle Avionics so a Voyager account is not generally transferable to AOPA FlyQ EFB. However, the two organizations have agreed to let Voyager Lifetime customers have a free FlyQ EFB subscription for at least one year. Given that the FAA is likely to begin charging a substantial fee per user in late 2013 or early 2014, we cannot offer free subscriptions for a longer period. Please contact Seattle Avionics Customer Service for more information.
Why don't you support the original iPad?
We're very sorry about not being able to support these older devices; They simply don't have the memory or processing power to handle the advanced features that FlyQ EFB supports such as split screen and synthetic vision. In fact, even Apple has stopped releasing software for the original iPad as the last two operating systems (6.x and 7.x) requires an iPad 2 or later and most of the powerful Apple apps will not work on the original iPad.
Keeping backwards compatibility with older devices, while it may seem like always a good thing to do, comes at a cost to users of the newer devices. Specifically, there are certain useful features of the newer devices that we would not be able to use. This means useful features not being available or, in some cases, considerably more development time in getting the same feature to work on the older devices. That implicitly means time not spent adding new features that apply to many people or not fixing bugs.
We're very sorry we had to make this decision and hope you understand our thinking.
Are there any known bugs in the app?
Some minor ones, yes, and we're working to correct them quickly. We've fixed several since the initial release of FlyQ EFB. If you think you found a problem, have a question, or have a suggestion, please let us know by sending email to FlyQEFBSupport@seattleavionics.com.
How about countries other than the United States?
We're sorry but AOPA FlyQ is really just for flying within the United States; it has no data for other countries.
I'm having DUAT / DUATS login issues
There are two DUATS providers: DTC DUAT and CSC DUATS (confusing, we know). The two providers use different account numbers. Be sure to enter the right login info for the provider you select. If you're not sure which you have now, DTC DUAT numbers usually begin with a 0 while CSC DUATS numbers usually begin with a 1.
If you think you have a DTC DUAT account but can't remember your password, you can reset the password to something you'll remember (DTC DUAT does not have a mechanism to retrieve a lost password). To reset your password, go to the Settings tab and tap Pilot Profiles, DUAT. Tap your name then confirm that you've entered your FAA Certificate # and the new 6 character password you'd like to use. Although you may already have an account, use the New button in the DUAT ID area to change your password to what you just entered on the Pilot information screen.
I have other questions. Who do I contact?
Call or email AOPA Monday through Friday 8:30 ? 6:00 Eastern Time.
Phone: 800/USA-AOPA (872-2672)
E-mail: FlyQEFBSupport@SeattleAvionics.com
Who makes AOPA FlyQ EFB?
AOPA FlyQ EFB was created by Seattle Avionics in conjunction with AOPA.
Founded in 2002, Seattle Avionics develops cutting-edge aviation software, ChartData™ aviation data, and the popular SkyPad complete EFB solution. The company?s Voyager Flight Software System for Windows is a consistent winner of Aviation Consumer?s award for Best Flight Planner. Seattle Avionics provides state-of-the-art US and European aviation ChartData to many major aviation companies including Aspen Avionics, Honeywell (Bendix/King), and all the leading iPad applications. The company is working on a range of aviation software and data products designed to make general aviation flying easier, safer, more fun, and more affordable. Please see www.seattleavionics.com for more information.
---

Copyright © 2011-2013, Seattle Avionics, Inc.
All Rights Reserved.