There is a lot to talk about this month. The big news in the world of computing is the release of Microsoft's latest operating system, Vista. I'll discuss what this means to you as a Voyager user. I'll also introduce our new 'Webinars' — live, interactive demos that make you feel like you're at a tradeshow watching a one-on-one demo from a Voyager expert. And finally, at only 100 years young, aviation is just getting started — and the future is spectacular. As an example, I'll talk about a meeting I had with Dr. Brien Seeley, president of the CAFE Foundation, dedicated to making safe, inexpensive personal air vehicles a reality.
Flight Log is a recurring newsletter for all Voyager users with the latest Voyager news, tips and tricks. I'm very interested in your feedback, either to the newsletter or to Voyager itself. Please send any comments or suggestions to me directly at SteveP@SeattleAvionics.com.
Back issues of Flight Log are available from our Web site at http://www.seattleavionics.com/Newsletters
---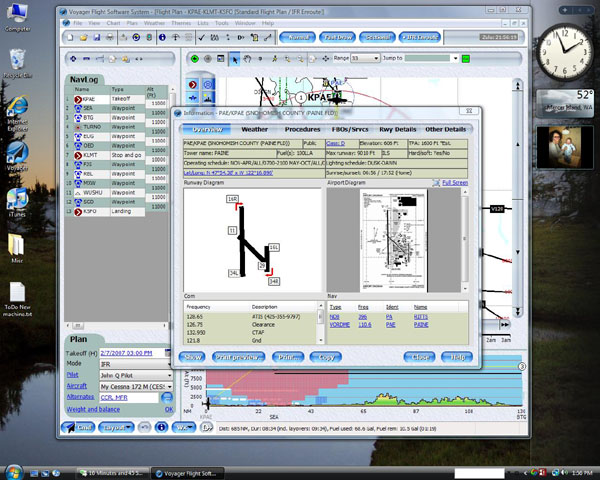 Look closely at the picture above. See anything different?nbsp; This is Voyager running under the new Microsoft Windows Vista operating system. If you look very closely, you'll also notice that we updated the Voyager icon to match Vista's looks, and you'll see the new semi-transparent window title bars and borders that Vista uses. Pretty cool.
---
Microsoft Windows Vista
There's an old saying that you have to break some eggs to make an omelet. On January 30, Microsoft introduced their newest omelet, Microsoft Windows Vista. Vista certainly is the most attractive Microsoft operating system yet and promises to be its most stable and secure. But, like all omelets, a few eggs got cracked in the process. Thankfully, Voyager was written from the ground up using the latest Microsoft technology, so Voyager was only slightly cracked, with the most obvious problem being with Setup, not Voyager itself. During the past few weeks, we've worked to make a few changes to Voyager to make it "Vista-ready," and of course, tweak a few other things at the same time.
For anyone not currently using Vista, getting the new version (3.5.0.30357) is as simple as doing a normal Voyager update (by selecting Update Application from the Tools menu). However, if you've already taken the journey to Vista, Voyager's old automatic update system won't quite work (due to Vista's enhanced security) and you'll need to download and install a full copy of Voyager. As always, you can get a list of our download locations from:
http://www.seattleavionics.com/faq.shtml?location=faq#DownloadURL
New version '357 also addresses some other issues, most notably with XM support and some high-performance aircraft profile issues. More information.
Want an (almost) Personal Tour of Voyager From the Expert?
We consistently hear that while getting started with Voyager is easy, there is so much depth to the product that folks could spend days learning all the nuances. In addition to the detailed Help files, online support, printed documentation and self-running demos, we just started offering live seminars. Delivered over the Web right to your computer, these free 'Webinars' are done live by our Master of Demo, John Rutter. He'll spend an hour or more giving the same in-depth demos he gives at tradeshows. The demo starts by covering Voyager basics and then progressing into all the details of each individual Voyager module. Best of all, it's interactive so you can ask questions and get immediate answers or see your specific topics covered in detail. All you need is a Web browser.

The demos are scheduled for most Friday afternoons. Pre-registration is required so sign up now as space is limited. Be sure to mention if there are specific topics you want covered.


FreeFlight Users - Save Money and Time by Upgrading to Full Voyager
I may be biased, but I think FreeFlight is a terrific product. But did you know how much time and money the full version of Voyager can save you?
Save Money
The SmartPlan module in the full Voyager automatically optimizes for best winds, substantially reducing your fuel bill.

The SmartPlates module is a must-have for any IFR pilot. Monthly updates to all 13,500 + US procedures are absolutely free (there is a reason we call it Smart Plates).
Save Time (and Sanity)
SmartPlan automatically finds fuel stops and avoids TFRs and other nasty airspace.

With a ChartData subscription, you get the true FAA Sectionals, IFR High and Low Enroute, WACs, and TACs.

Have more than one computer?nbsp; Our exclusive Web Synch feature means that you can plan a flight on one machine, click a button, and have that new plan and all your pilot and aircraft profiles automatically synchronized with your other computers.
Want to give these features a spin? Simply run FreeFlight, then select Modules from the Tools menu. Check the modules you want to test-drive and click OK. And, as the next topic mentions, this is a terrific time to upgrade.
"Any Module for $99" Sale Extended Until Saturday, Feb. 24, 2007
By now you should have seen an email that mentioned that you, as an existing Voyager user, can add any Voyager module (SmartPlan Premier, SmartPlates or GlassView) for just $99 — 50% off the standard price of most of these modules. Sales asked me to mention that we've extended the sale by a few days to this Saturday because the response has been incredible and it's taken so long to send emails to everyone (in these days of rampant spam filters, you just can't send tens of thousands of emails at once). Click here for more information.
Personal Air Vehicle (PAV) Challenge - Make a Difference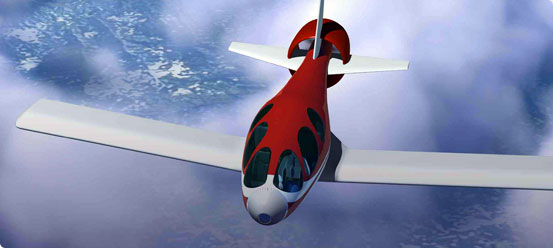 Since the 1940's, magazines like Popular Mechanics have trumpeted the imminent arrival of small personal air vehicles that would make commuting a dream and traffic jams a bad memory. Of course, this hasn't come about yet but with recent advances in avionics, small jet engines and materials science, a variation of this, the Personal Air Vehicle (PAV), might just might arrive in our lifetime. This vision of the PAV isn't a daily commuter vehicle but a safe, economical plane ideal for 400 - 800 mile trips that's about as easy to fly as driving an SUV. Dr. Brien Seeley is a man who not only believes this, but actively is working to make it a reality. He runs the CAFE Foundation, a group that ran the popular CAFE 400 races in the 1980's. Now CAFE has turned its eye toward a contest similar to the X-Prize in that it aims to substantially advance aviation via a large prize. Specifically, thanks to NASA's funding, CAFE will award $250,000 to groups that help make the PAV a reality.
Recently I had the opportunity to meet Dr. Seeley. Like many of us, Dr. Seeley is a professional by day (an eye surgeon), and an aviation enthusiast in all remaining moments. He says that there are many teams from all around the world actively preparing to compete. At Seattle Avionics, one thing that especially interests us is their concept of an Electronic CFI (eCFI), a computer system that would actively assist the pilot in flying the plane and even be able to take over in case of an emergency. (The name is based on the fact that, far and away, the safest GA flights are made when there is a CFI in the plane.) While the eCFI doesn't exist yet, Seattle Avionics is helping them with it and, in the meantime, is donating each competing team the complete Voyager suite of modules.
Dr. Seeley and his team are doing great work and are devoting their time and money to the project, but they can't do everything. In particular, they need about $50,000 in additional funding to cover the cost of insurance and other incidentals to make the contest a reality. We ask you to consider donating to the CAFE Foundation to help bring aviation into future. You can learn more from:
---
As always, please send your questions and favorite tips to SteveP@SeattleAvionics.com.
A reminder that past Tips and Tricks are available from our Web site at
http://www.seattleavionics.com/Newsletters
| | |
| --- | --- |
| | Watch the Video. Yes, this is a repeat from last month, but if you haven't seen the 3.5 What's New video, you should consider doing so. In just 15 minutes you'll get a good overview of the many changes. |
| | Improve Your Altitude. Voyager has always been able to give you the fastest route by taking winds into account, perhaps taking you up and down a little more often than some people like. Voyager 3.5 introduces a way to either pick the single best altitude or go up and down to minimize your flight time. Within the autorouter options page, select either One best altitude or Vary altitude by leg from the Wind Optimization drop-down. |
| | Export to Garmin or Lowrance. Yes, you can take it with you. If you have a Lowrance or Garmin handheld GPS, SmartPlan Premier lets you export a flight plan to your device so you have one less pre-flight chore. Simply open the plan, then select Send to PDA/GPS/Application from the File menu (or click the icon to the left). |
| | Customize the NavLog. In Voyager most things are customizable, and the NavLog is no exception. Voyager uses different settings for the on-screen NavLog and a printed NavLog so that they can be customized differently. To add or remove columns from the on-screen NavLog, select Customize NavLog from the Plan menu or click the icon to the left (above the NavLog). To change the printed NavLog, select Print Setup from the File menu and choose Standard Navigation Log. |
| | Forget About the Past. Voyager keeps a list of the most recently used flight plans. From time to time, pilots ask how to clean up by clearing the list. Select Options from the Tools menu, then click the Clear List of Recently Opened Files button. |
| | Add Your Plane's Picture or Company Logo. When you print a Voyager flight plan, the first page is a cover page with basic flight info and the Voyager logo. If you'd prefer to see a picture of your plane, simply go into your plane's profile (Lists | Aircraft | <Your Plane> | Edit) and click the Browse button in the photo area. Now the Cover Page will print your plane's picture. Alternately, if you'd prefer a company logo or any other picture, select Print Setup from the File menu and select the Cover Page option. Use the Browse button to select your photo. |
| | Share Scanned Charts Between Computers. Voyager 3.5 includes the complete set of scanned FAA Sectionals, IFR, etc. Charts. Each of these files is relatively large, so downloading a full set can take some time — not the sort of thing you'd like to do for two or three computers. Luckily, it's easy to put the Charts on a memory card or USB memory stick and share them between all your computers. Simply select Options from the Tools menu and choose the Preferences tab. Use the Scanned charts folder option to point to a directory on the memory card. Thus, when new Charts are downloaded they go onto the memory card, and when you want to use a different machine just take the memory card to the other computer. |
| | Fly Multiple Planes? As you probably know, Voyager lets you create as many different plane profiles as you like, and makes it easy to set one as the default choice. However, if you have two or three planes that you routinely fly, finding each in the list can be a little tedious. A good trick is to rename each plane's profile to something at the top of the alphabet so it's sorted to the top. For example, if you routinely fly a Bonanza, a 172 and an RV-7, try naming the planes A - My Bonanza, A - My 172, and A - My RV-7. |
| | Quick Route. A very popular new feature in Voyager 3.5 is the ability to quickly enter a route or partial route and plan a flight with a click, bypassing the Wizard. For example, to fly between Boeing Field in Seattle (BFI) and Santa Barbara (SBA), you can enter BFI SBA and click OK. Voyager will automatically wind-optimize and find fuel stops, using your choice of Victor, Jet or GPS routing. You can even enter airway idents and/or SIDs and STARs. This works from either the Plan a Flight tab of the Tasks window (View | Tasks) or from the New Flight Plan window (File | New). |
---
February 24-25: Northwest Aviation Conference & Trade Show, Puyallup, Washington
April 17-23: Sun 'N Fun, Lakeland, Florida

Until next time, happy flying!
- Steve Podradchik, CEO (and Editor)
SteveP@SeattleAvionics.com