First, we'd like to thank everyone who wrote to us with pictures and suggestions! They were all very much appreciated, even though we cannot publish all of them.
For those of you just joining the Voyager family, Flight Log is a recurring newsletter for all Voyager users. Our goal is to share the latest Voyager news, tips and tricks. We're very interested in your feedback As always, please send any comments or suggestions to Editor@SeattleAvionics.com
A reminder that back issues of Flight Log are available from our Web site at: http://www.seattleavionics.com/Newsletter
---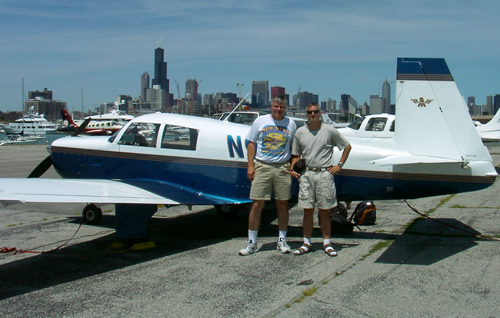 This is a picture of our first customer, Jeff Mirsepasy (in grey) next to his Mooney. When he's not flying, he finds time to practice law in West Seattle and send us more jokes then everyone else we know. And anyone recognize the airport? Bet you haven't flown there for a while. It's Meigs Field in Chicago, pre-bulldozer remodel.
Please send us interesting pictures of you and/or your plane for the next issue.
---
Introducing New Voyager FreeFlight
We keep hearing that there are still some pilots who don't use Voyager. Some of them use AOPA's Real-Time Flight Planner or Web-based planners. All good products, of course, but in this age of rising 100LL prices, we think every pilot could use a free upgrade. Therefore, our focus this month is on the word FREE. Well, Voyager FreeFlight, more precisely.
Voyager FreeFlight is the newest member of the Voyager family and, as we hope the name implies, it's a 100% free way to plan your flights. Positioned between AOPA's Real-Time Flight Planner and SmartPlan Express, Voyager FreeFlight is a quick and powerful way to plan flights. While it obviously doesn't have all the bells and whistles of full Voyager, we think it offers an unbeatable combination of features and price.
Voyager FreeFlight works either while connected to the Internet or not, and includes both Victor and GPS Direct autorouting, a Profile view over terrain, various weather overlays including NexRad and cloud tops (satellite), full DUAT briefings, powerful printing features, and the ability to file flight plans electronically.
Read the Voyager FreeFlight press release.
Read what's different between full Voyager and Voyager FreeFlight.
Please Pass the Word
If you know a pilot using another free flight planner, please show them the light by sending them the link to our Products page (below) that describes Voyager FreeFlight. They'll thank you for it — and so will we!
We'd also appreciate it if those of you who are members of aircraft or pilot organizations (CPA, Piper Flyer, COPA, etc.) could pass the word about Voyager FreeFlight to your fellow pilots.
http://www.seattleavionics.com/Products.aspx
Current Version Updated to 3.0.0.30319
With the introduction of Voyager FreeFlight, we also released an update to the full Voyager product. The current version number is 3.0.0.30319. Relative to version '316, we fixed a problem with DUAT support, significantly decreased startup/shutdown time, and fixed some minor bugs. We also added the Profile view to all versions, not just SmartPlan Premier. See all the changes:
http://www.seattleavionics.com/v_revis_hist.shtml
Geo-Referenced Plates
We'd like to remind anyone using GlassView/SmartPlates in the cockpit that geo-referenced approach plates and airport diagrams are now available, but they are not part of your current NavData subscription (unless you recently purchased the EFB NavData, of course). Starting with this last data cycle (May 10), the geo-reference information is removed from the update except for those who purchase it. The good news, however, is that until June 2 we're extending the offer we made last month to upgrade to the EFB subscription level. While the usual price for 12 months of NavData at the EFB level is $247, we're offering existing customers the EFB level for just $198. Better still, since many of you have existing NavData subscriptions, we'll add the new benefits to the time left on your existing plan, then add the additional 12 months. For example, if you're six months into a NavData plan and buy the EFB level, you'll get the EFB level for a total of 18 months for just $198! Use Coupon Code GEO when ordering (or just click here). One caveat: while the current version of Voyager (3.0.0.30319) supports geo-referenced plates, we're still working on the scanned Charts and expect it within 30 days.
This discussion about NavData leads nicely to our next topic....
"NavData" Not a Generic Term?
Bet you thought that NavData was a generic term. So did we -- until we got a letter from Jeppesen® telling us that they have a registered trademark on the word NavData® and that we have to stop using the term. Really. We have our lawyers looking into the ownership of the trademarks for "flight", "planning" and "airplane," too -- just in case.
Seattle Avionics believes strongly in intellectual property rights, so we'll change the name of our update subscription to something else. But let's have some fun in the process.
Contest: Win a year of <Product To Be Named Later> data subscriptions
We can't call NavData "NavData" anymore. What do you suggest? Send your submissions to NotNavData@SeattleAvionics.com by June 2, and the author of the best new name will receive either SmartPlan Premier or one year of EFB-level <Product To Be Named Later> data subscription.
---
As always, please send your questions and favorite tips to Editor@SeattleAvionics.com.
A reminder that past Tips and Tricks are available from our Web site at:
http://www.seattleavionics.com/Newsletters
A new version of the printable Voyager User's Guide, updated to reflect Voyager FreeFlight and all the other changes we've made in the past few months, is now available for download. It's more than 200 pages.
http://www.seattleavionics.com/downloads/UsersGuide.pdf

With SmartPlan Premier, did you know that you can pre-download AOPA FBO Information for all the airports along your route? Select Download Airport Information from the Plan menu while a flight plan is open.

You can quickly collect all the approach procedures along your route by creating a Plate Pack from an open flight plan (requires SmartPlates and SmartPlan Premier). Once the flight plan is open, select New from the File menu and choose the Plate Pack tab. The default choice can download procedures all along the route or for just those near landing airports.

If you normally plan flights more (or less) than an hour in the future, you can change the default "time from now" value. Similarly, you can change the default layover time from one hour to whatever you like. For both, select Options from the Tools menu.

Know what a Personal Procedure is? With SmartPlan Premier, you can pre-define specific routes you take frequently. For example, say you always leave your home airport via NavAid 1, NavAid 2 and NavAid3. You can turn this into a custom procedure, call it My Takeoff, and have Voyager enter the whole procedure simply by typing My Takeoff into either the NavLog or the autorouter. Select Personal Procedures from the Lists menu.

FreeFlight users: Did you know that you can take a 10-day test-drive of all the advanced features of the full Voyager Flight Software System with just a few clicks and nothing additional to download? This includes SmartPlates (IFR Procedures), GlassView (moving map and much more) and more advanced flight planning with SmartPlan Premier or Express. Select Modules from the Tools menu and check the modules you'd like to try.

New FreeFlight self-running tour. We just introduced an all-new self-running tour specific to Voyager FreeFlight. In just a few minutes, it shows you how to use the key features of the product.
http://www.seattleavionics.com/tours.shtml

Zoom to a point on the Profile. If you're looking at the Profile and see something you want to investigate — like getting close to a mountain — you can zoom the main Chart to that point. Right-click the point on the Profile and select Jump To.

Center and zoom around a point. If you see a point on the Chart that you want to zoom in to see better, you can right-click the mouse over it then select Center and Zoom To and a range. In one command, it both centers and zooms.

Changed your email address? Seattle Avionics uses your email address as your customer ID so it's important that you keep it current both on your computer and in our database. If you need to change your email address, please select Change My Email Contact Info from Voyager's Help menu.

Expand the NavLog. The onscreen NavLog only shows a few columns so there is room for it and the Chart. However, you can quickly see more by clicking Expand/Shrink NavLog. Click it again to restore the narrower width.

Turn off waypoint idents. Sometimes, especially for long flights, the waypoint markers can get in the way of seeing the Chart. You can toggle them on and off by right-clicking the Chart and selecting Show Waypoint Identifiers.

Show all legs. On a conventional NavLog, you normally enter just the waypoints you'll be flying to and ignore when you have to begin descending or when you reach cruise (these are often called Top of Descent and Top of Cruise). The onscreen Voyager NavLog works like this and hides what we call Begin Cruise and Begin Descent unless told otherwise. When printed, we default to showing these points. You can toggle the onscreen display to show or hide these points by clicking Show All Legs on the toolbar above the NavLog. Note that you cannot edit the NavLog when Show All Legs is on, since many of the points (the Begin Cruise and Begin Descent points) are computed based on the other legs and expected winds.
---
Seattle Avionics will be showing Voyager at the following upcoming events. Stop by to say hello, see the latest Voyager features, and ask the experts any questions you have about our products. And remember, you can always get a tour of Voyager from http://www.seattleavionics.com/tours.shtml
June 3, AOPA Fly-in, Frederick, Maryland. Booth 5.
July 5-9, EAA NW Trade Show, Arlington, Washington
July 24-30, EAA Air Adventure, Oshkosh, Wisconsin
November 9-11, AOPA Expo, Palm Springs, California
Until next time, happy flying!
- The Editor
Editor@SeattleAvionics.com