The full Voyager Flight Software System is a modular system that includes the #1 rated flight planner (Aviation Consumer), full IFR approach plate management and comprehensive in-flight information including a moving map and in-cockpit weather. The full Voyager system can be purchased either by individual modules or in complete packages. Prices start at just $99. Download a trial version for free now.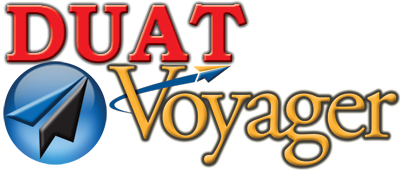 DUAT Voyager is an absolutely free, easy to use, basic flight planning system. It's based on the full Voyager system and includes many of the features of the full system but leaves out other features such as on-screen fuel prices, export to most GPS devices, high performance and high altitude planning, etc. Once you have DUAT Voyager installed, you can add functionality by buying and turning on various modules.

How does DUAT Voyager compare to the full product?

Any modern computer with at least 1 GB of RAM (2 GB if running Windows 7 or Vista) should work. Voyager 4 will not run on a computer with 512 MB or less of RAM or any computer made prior to 2004. In addition, performance is greatly affected your video card so machines with modern, high-performance video cards will run noticeably faster. Voyager 4 also takes full advantage of dual or quad core machines with Intel Core 2 Duo or similar AMD processors.
Windows 7, Vista or XP is required.
Voyager can be run on an Intel-based Mac using Apple's Boot Camp and also under the very latest versions of Parallel's Desktop for Mac and VMWare Fusion. For best results, we suggest using Boot Camp, however.
What's New, Voyager 4
Current version 4.5.0.30453. The following refers to Voyager 4 in general. Click the Complete Version History button on the left side of the page for specific changes in the most recent release.
Version 4 is the most significant Voyager upgrade ever!
We very strongly suggest reading the detailed What's New Guide that explains all the new features and how to use them. Click the URL below to read it.
http://www.seattleavionics.com/documents/WhatsNewVoyager4.pdf
50x faster charting engine. Super-fast pans, zooms, jump to, etc.
2D and 3D (HITS)
Scanned Sectional and IFR charts on the main map. Overlay flight plan line, weather, print, etc.
Completely redesigned GlassView module.
Better looking, more modern user interface.
Faster overall response time.
Charting Engine 50x faster and draws much more realistic looking charts including terrain with shadows for a more pronounced 3D effect.
2D and 3D charts (HITS).
Generally responds to clicks faster.
GlassView is faster to use because of many refinements.
Choice of digital charts or scanned Sectionals, IFR Low or IFR High anywhere. Mix "digital" and scanned data so you can overlay fuel prices, TFRs, radar/satellite, flight plan line etc. over a scanned Sectional.
Simplified selection of Layout and Themes.
New Chart button shows common (not all) themes and makes it easy to customize the chart.
Chart settings system reduced from two dialogs to one to make it easier to use and more discoverable.
Larger text and buttons everywhere.
A new Animated Weather feature on the Wx button quickly shows how the weather has changed in the last two hours.
3D views (HITS) in both preflight and GlassView.
New Personal Layouts feature lets you better customize what you see on the screen.
Many, many new features and refinements, especially in GlassView. These include a Runway Picker, a way to intercept a radial or airway with Direct To, much easier modification of a flight plan while in flight and much more.
GlassView
Much, much faster! Update speed is once per second rather than once every five seconds.
Can pan and zoom chart while the plane's position continues to update.
Track Up works well no matter how many layers are turned on.
Super-fast, high resolution TAWS stays below other items on the screen.
Obstacle warnings. Obstacles turn red when nearby and within 500 ft. A warning message blinks at top of screen when obstacles are within two minutes at current speed.
New Gaugebar across the top is large and easy to read.
New Chartbar just below top makes it quick to turn layers on/off without clicking Cmd.
New Gauges widget shows all gauges, very large, on a tab in most layouts.
New Timer gauge (both count-up and count-down). Click to toggle on/off or double-click to change count-down time or reset.
New Current Time (both Home and Zulu) gauge.
New Lat/Lon gauge. Click to add a Personal Waypoint at that spot.
Simplified buttons mean no need to click Cmd for common tasks or use the Themes menu. Theme selection now under new Chart button not under the Wx button.
New CDI/Glideslope gauge.
New inflight QuickInfo boxes use large fonts to show just the information you need when you click on the Chart. Options include Direct To, Add to FP, Jump To, and more. Can automatically hide after five seconds or stay "sticky" like Post It Notes. Distance/bearing updates every five seconds so you can leave several on screen at the same time to intercept two VORs, etc.
New Add to FP (+FP) feature makes it easy to modify the flight plan enroute.
Option to show extended courseline.
New Personal Layouts let you pre-select the range, theme, 2D vs. 3D, etc. for every chart on a Layout. Can set your Personal Layout as the default GV layout
New Runway Selector lets you pick a landing runway. Adds either a standard VFR pattern (both left and right-handed) or a synthetic (virtual) ILS approach including glideslope. Suggests best runway based on winds. For an ILS, shows standard ILS "feathers" to the runway
Direct To can intercept a radial or an airway.
Airport Info widget graphically displays the surface winds relative to the runways. If the airport has no METARs/TAFs, wind info is pulled from nearest airport with winds.
Can change the planned altitude of a leg enroute.
Clicking an airport on the Chart does not force the Airport Widget back to the General or Weather tab but keeps it selected on whatever tab was previously selected. Thus, you can quickly check the weather at several airports by clicking each on the chart.
The XM module now downloads and processes XM Winds Aloft data.
Voyager now monitors the status of the XM data connection and automatically restarts it if it detects a problem.
Voyager 4.0 includes a new, more modern color scheme.
When showing general airspace, you can hide TFRs to show the underlying airspace.
All METARs/TAFs now downloaded all the time, rather than just those along a flight plan line, so there are no more issues with starting a chart at one location, panning far away, and not seeing TAFs/METARs at the new location.
Fixed: Download AOPA FBO Info.
Fixed: Problem with downloading some METARs.
Fixed: Wx color dots on the Nearest widget did not update correctly as time changes and new data is downloaded.
Fixed: Problem with the TAFs date being decoded incorrectly in very rare instances.
Default Chart tool is now the Hand not the Pointer.
For very short displays like the original Samsung Q1 in Landscape mode, the NavLog now hides the Plan area so there is plenty of space for the Waypoints. In this case, a button on the NavLog toolbar (the Up and Down arrows) toggles the display of the Plan area on and off.
Printing a Chart (the print button above the chart) shows exactly what's on the screen, including the flight plan line.
New way to delete old and unused flight plans, planes, pilots, etc. from Web Synch. From within the Web Synch dialog box, click Delete old items from Web Synch.
The Chart's Distance and Bearing tool now shows a circle at the selected range as well as the line so it's easy to see all the points of interest, regardless of direction, a specific distance from a given point.
Fixed: Export to WingX sometimes included an incorrect airport identifier.



Version 4.5.0.30453. Released 12/28/11
Version 4.4.0.30440. Released 12/24/10
Version 4.3.0.30438. Released 5/26/10
Version 4.3.0.30437. Released 2/3/10
Version 4.3.0.30436. Released 1/3/10
Version 4.3.0.30434. Released 12/7/09
Version 4.3.0.30433. Released 12/1/09
Version 4.3.0.30432. Released 11/25/09
Version 4.3.0.30430. Released 10/1/09
Version 4.2.0.30421. Released 5/26/09
Version 4.1.0.30410. Released 10/23/08
Version 4.0.0.30408. Released 5/21/08
Version 4.0.0.30406. Released 3/28/08

---
Version 4.5.0.30453. Released 12/28/11
ADDED: Websynch compatibility with our new iPhone app (Voyager FreeFlight for the iPhone). Flight plans can be shared between Windows and the iPhone.
FIXED: TAF downloads (required due to change by the National Weather Service)
FIXED: Rocky Mountain winds-aloft downloads (required due to change by the National Weather Service)
ADDED: Larger buttons for easier in-flight use.
FIXED: Fix to GlassView that sometimes made the plane appear to fly sideways.
ADDED: TAF/METAR circles now semi-transparent so you can see charts below.
FIXED: Fixed an airport printing problem that affected some users.
ADDED: Better "pinch to zoom" for touch-screen systems.
ADDED: Improved overall performance.
ADDED: Improved stability.
ADDED: Easier to use GPS Simulator.
ADDED: Improvements for systems using 'Large Fonts'.
Version 4.4.0.30440. Released 12/24/10
FIXED: Various bugs with DUAT weather briefing parsing
Version 4.3.0.30438. Released 5/26/10
FIXED: Web site changes by AOPA kept Voyager from downloading airport FBO info.
FIXED: Web site changes by NOAA kept Voyager from downloading some weather graphics.
FIXED: Voyager would occasionally lock-up when it determined that your PC was not connected to the Internet.
ADDED: New screen rotation autolock mechanism added for SkyPad2. Does not apply to original SkyPad or Voyager running on any other tablet.
Version 4.3.0.30437. Released 2/3/10
FIXED: Web site changes by NOAA keep Voyager from downloading TAFs.
FIXED: Voyager may not display some airports in certain themes.
FIXED: The airports data file may become corrupted and Voyager will fail to display airports on any chart.
CHANGED: Voyager now remembers the on/off state of the Navigator when showing charts.
Version 4.3.0.30436. Released 1/3/10
CHANGED: Added new 5 year magnetic variation tables from NOAA, without which Voyager will fail on 1/1/2010.
ADDED: IFR High and Low Altitude charts for the Caribbean, Alaska and the Pacific areas.
REMOVED: Data Manager automatic download for WACs removed. WACs are being phased-out since they are redundant with the seamless Sectionals. For now, WACs can still be viewed and downloaded manually but they will be outdated. All WAC support will be removed in the near future.
Version 4.3.0.30434. Released 12/7/09
ADDED: For SkyPad users only, works with a new version of the SkyPad Controller (1.0.0.1) to prevent accidental screen rotations while Voyager is running. SkyPad users should check their email for the new SkyLounge Newsletter for more information.
Version 4.3.0.30433. Released 12/1/09
FIXED: Changes to the AOPA Web site disabled Voyager's AOPA FBO information download.
Version 4.3.0.30432. Released 11/25/09
ADDED: New Data Manager downloads ChartData, TFRs, fuel prices, plates, etc. in the background so Voyager starts much faster.
ADDED: New GlassView Ranges of 150 and 200 NM.
ADDED: Automatically keeps charts selected in the Chart Viewer current.
FIXED: In GV, the pop-ups close after 5 seconds even if Full Screen is clicked.
FIXED: Voyager "submerges" when Airport Info dialog box is closed.
FIXED: TAF/METAR parser rounds to nearest 1 NM; should be .5 NM.
ADDED: Easy way to open a flight plan when starting in QuickFly mode.
FIXED: Scanned chart bits take too long to appear on the screen, esp. in GV mode.
FIXED: In GV mode, scanned charts bits tends to "blink" from time to time.
FIXED: Flight plan export to AV8OR is broken.
FIXED: Personal Waypoints do not always appear.
FIXED: GV click semantics needs work (impossible to click a navaid near an airport, defaults to showing wx info even if METAR/TAF not on)
ADDED: Warn user when EFIS form needs to be filled-out.
FIXED: Sometimes radar does not download because of Internet timeout. Need to extend the timeout period.
FIXED: Alternate airport info gets cleared too easily.
FIXED: Rubber-banding a flight plan fails if the FP has any Alternates.
FIXED: Can't pan chart east of Nava Scotia.
FIXED: Export of Personal Layouts broken.
FIXED: Opening two flight plans at the same time causes problems on some machines (SkyPad).
FIXED: Spin-o-matic zoom buttons don't work if Smooth Zooming is off.
FIXED: Satellite overlays persists for much too long after the data is no longer valid.
FIXED: Track Up vs. North Up settings are ignored in Personal Layouts.
FIXED: Airway router has problems with mountain areas.
FIXED: XM Winds Aloft is broken when not in Daylight Savings Time.
FIXED: Some airports do not appear on the chart even if in the database (bug introduced in 4.30).
Version 4.3.0.30430. Released 10/1/09 - SkyPad Only
FIXED: Significantly reduced memory consumption
ADDED: SkyPad specific Layouts
FIXED: A variety of misc. fixes
Version 4.2.0.30421. Released 5/26/09
ADDED: Ability to display and print Flight Guide airport and airspace diagrams with an optional subscription.
ADDED: Fuel prices at specific FBOs now shown in the Airport/FBO dialog box.
ADDED: Flight plan export to the Garmin G1000, 430W and 530W in-panel units.
ADDED: Flight plan export to the Bendix/King AV8OR.
ADDED: Now possible to update all monthly data, including approach plates, with a single click and no additional dialog boxes.
ADDED: New XMLink application restores Winds Aloft data.
ADDED: New "Reset" button in the Print Options dialog that restores the default settings.
CHANGED: Minor user-interface changes to GlassView.
FIXED: Unhandled exception when printing.
FIXED: Unhandled exception when switching aircraft.
FIXED: Background scanned chart downloads sometimes fail.
FIXED: Various problems when FL is selected as the altitude unit.
FIXED: Various cases where updated weather would not display.
FIXED: Various minor Unhandled Exceptions.
Version 4.1.0.30410. Released 10/23/08
ADDED: 3D Airspace in 3D mode. That is, especially useful when in GlassView mode, you'll see the classical "inverted wedding cake" of Class B airspace, the large red cylinders of TFRs and all other airspace drawn in semi-transparent 3D shapes that let you literally see airspace as you pass near and into it.
ADDED: Support for the FAA's new 24 / 30 hour TAF format. This new format goes live on November 5, 2008. Older versions of Voyager will not correctly parse the new format so this upgrade is essential.
FIXED: Charting engine fails after screen rotate, hibernate, sleep or some screen savers. Now fixed in most or at least more cases.
FIXED: Printing doesn't work from some machines.
FIXED: Memory Card Synch doesn't work.
FIXED: Radar and other weather not correct (and sometimes not shown) until the timeline is 'wiggled' after first load or a theme change.
FIXED: Profile does not always refresh the clouds when timeline is changed.
FIXED: Rubber-banding the flight plan line does not work if the system is set to display just Waypoint Numbers not Ident names.
FIXED: Filing a flight plan via DUATS (as opposed to DUAT) would sometimes fail.
FIXED: Resizing Voyager while in GV sometimes caused the Chart to be incorrectly sized (blank blue areas).
FIXED: In GV, turning the ChartBar or GaugeBar on or off may cause the Chart to be sized incorrectly (blank blue areas).
FIXED: In GV, the aircraft icon does not appear when locked onto a real GPS until movement happens.
FIXED: Voyager will not parse the new 30 hour TAFs that come out Nov 5 (the fix should parse both the old and new formats).
FIXED: Airspace altitude text is suppressed much too often.
FIXED: In the GV Airport Info widget, the Departures tab is too long so the last item is cut-off and cannot be selected.
FIXED: Western Aleutian Islands gets re-downloaded all the time if checked.
FIXED: Default export of MS Flight Sim files goes to the wrong (older version of Flt Sim) directory.
FIXED: Chart may lock-up on some NavLog <-> clicks.
FIXED: In the WindView widget, the + and - numbers are too hard to read in red or green. Make all white.
FIXED: When in GV, turning CMD OFF should reset the mouse pointer to the Hand icon
FIXED: Airway autorouter will not use T and Q airways
FIXED: Startup could be faster (fix is to only load your default plane profile at startup, not all 200 of them, until you ask for the whole list)
FIXED: Identical stacked airspace gets reduced to one airspace with the result being that one is removed
FIXED: New Flight Plan Wizard will lock-up if the Add Manual Waypoints step is set to Auto show.
FIXED: Pressing the FBO button on the GlassView AirportInfo widget will fail or lockup if the screen DPI is 120 rather than the default 96 DPI.
CHANGED: In the Tasks list, will remember if the last choice in the Weather tab was all US or a specific airport and default to that choice next time
CHANGED: Put in a way to select whether on startup V should show the Tasks list, nothing, or the full weather screen (ok, maybe this is New Feature #2). See Tools/Options/Preferences/General -- "When Voyager starts" for the new 3 way mode switch.
CHANGED: When in FreeFlight mode, allow Web Synch.
CHANGED: When in FreeFlight mode, show terrain on the main chart.
Version 4.0.0.30408. Released 5/21/08
All scanned Sectional chart bits are now uploaded to the server with no significant seams or black lines with the US boundaries (this includes AK and HI).
All scanned Low Altitude chart bits are now uploaded to the server with no significant seams or black lines.
The Chart Viewer Download Manager automatically downloads both the full scanned charts and chart bits. Thus, when you download, for example, the Seattle North Sectional, you get the full scanned Sectional now used in the Chart Viewer but also all the little chart 'bits' that the main charting engine uses when rendering a map with Sectionals. In '406, downloading a full scanned Chart had no impact on the status of the matching chart bits. Consequently, using the Chart Viewer to download a scanned Chart does take longer to download than before because the .zip file it downloads is about 2x the size of the old file.
Voyager now warns about printer drivers when it gets a printer error and has a link to a Web page that describes how to update your printer driver.
We fixed a bug/made a change to the Airway autorouter that fixes a problem with it not locking onto the nearest navaid and, in some cases, plowing far into terrain during landing.
XM Support. Should be rock-solid now. We fixed a problem that would only happen if the user had installed WxWorx. We also made the connection between XMLink and the XM receiver more solid. Now, if Voyager detects that XMLink has quit for any reason, it restarts it within one minute. And, if XMLink is running but is not processing new data (this happens with a brief power glitch in the plane cycles the XM receiver on/off), Voyager will close and restart XMLink within seven minutes of not getting new data.
XM's Winds Aloft data is now processed by Voyager.
Wx display. There was a case when no flight plan was open (like Show US Weather) where moving the time slider might not refresh the screen w/ new weather. Fixed.
Altitude slider. The Altitude slider was often clipped at the bottom so you couldn't see 3000ft or sometimes 6000 ft levels. Fixed.
Wx info display. Sometimes weather would be on the screen but the text that told you how old it was wasn't shown. There were two bugs that contributed to this one. Fixed.
Added a quick way to show a weather animation. From the Wx button, click the new "Animate weather" menu item and Voyager will cycle weather from two hours ago to current in 15 minute increments. Very handy for inflight and gets rid of any need for the Timeline in Cmd mode in GV.
Chart Viewer. A problem which could cause a scanned chart to be rendered as a simple grey screen was addressed. We re-wrote a part of the Chart Viewer to use 75% less memory, which seems to have solved the problem.
On startup, Voyager now compares the age of the default airspace and land databases to the one in the user's directory. If the default ones are newer, Voyager copies them over and uses them. This was done so someone who tried v3 or v2 a long time ago and might have ancient data in his \documents directory, now would not have a problem and would not have to immediately download new data if he tried V4.
Cloud Layers are now correctly displayed for the altitude selected in the Alt slider. That is, we previously had the scale wrong so you still saw clouds at FL500, which wasn't very likely. Also made the clouds darker.
Radar colors changed a little to match the NOAA colors exactly. Also re-calibrated the radar decibel levels so they should better match NOAA. That is, V406 will tend to overstate radar echoes by about one level so things might appear red when they really should have been yellow.
Printing of scanned charts is much easier. Now, when you print a flight plan, Voyager will (by default), pick up the chart settings currently used on the screen and use those. That is, set things up on the screen the way you want them printed and they'll magically print that way. Previously, the on-screen view and the printed view were entirely different and it was confusing and hard to change. Also, when scanned charts are being printed, Voyager overrides some printing settings to print the charts zoomed-in enough (10 NM) to be very clearly read. Again, all automatic.
You should be able to use hibernate and sleep without the charting engine stopping but it will take a few seconds to "wake-up". In some cases, rotating the screen will work but not in all cases. We're still working on that one.
Warns LS800 users to get new video drivers and has a link to get it. In fact, warns all users that a newer video driver might be a good idea and has a Web page link that gives easy instructions on how to check and do a manual update.
Detects when XM and the GPS are both used and you need to set a hard COM port for the GPS. User will be told what to do (this was a really common cause of problems)
The Great Lakes have re-appear on our charts.
The DC TFR looks right again.
As of this writing, the High Altitude chart bits are being processed so they are not on the server. We expect them to be ready by Monday evening. For now, clicking on a HI Chart from within the Chart Viewer will cause Voyager to say that it needs to re-downloaded every time. This will correct itself automatically when the HI chart bits are processed and on the server. For now, we suggest simply not using the HI charts.
Because the Chart Viewer now downloads both the full scanned chart and the associated chart bits, if you use the Chart Viewer to view a Sectional or Lo chart that you previously downloaded, Voyager will tell you that it needs to download it again. This is not a bug so much as a one-time issue. It needs to download the chart again in order to download the version w/ both the full chart and the Chart bits. After the 'combined' file is downloaded, it will work as expected in the future.
V3.6x and V4.0 should co-exist on the same machine a little better. You may have to re-activate when you install this new version but all data from previous versions will remain intact.
Fixed: Export to WingX sometimes included an incorrect airport identifier.

Version 4.0.0.30406. Released 3/28/08
Initial Voyager 4.0 release.
Updated 10/25/07
Changes to ChartData Due to Removal of DAFIF from the Public Domain
History
For years, the US Department of Defense (DoD) has collected aviation data from countries all around the world and put it into a massive aviation database that is updated every 28 days. This database, called DAFIF, is primarily for military use but the DoD also produced a non-classified public version. Over the years, most aviation software has come to rely on the public DAFIF data to give pilots the official data we need to fly safely.
In November 2004, the DoD announced that, starting October 1, 2005, DAFIF would be completely withdrawn from the public due to intellectual property concerns voiced by a few foreign aviation authorities . This caused a tremendous outcry from pilots, the aviation industry and AOPA because some of this data, especially airspace information, is not available from any other public source. In response, the DoD postponed the cutoff date until October 1, 2006 and created a special US-only version of DAFIF, called USFIF, which would be available until October 2007.
Using FAA Data as of October 25, 2007
The FAA is clearly the original source for most US aviation data so it only makes sense, ultimately, that the FAA provide the data directly rather than via the DoD. They have been working to fill the US digital data gap that the withdrawal of DAFIF produced. As of this writing, the FAA provides virtually all of the data required for aviation but not quite all of it. In particular, Seattle Avionics relied on the very detailed airspace data from the DoD to draw airspace. This data contained a wealth of information beyond simple shapes and altitudes. For example, it included communication names and frequencies, comments about unusual situations (like some Class D airspace reverting to Class E when the tower is closed) and so forth. The FAA has chosen to produce most airspace data in a format that many commercial drawing programs can digest called Shapefile. As the name implies, a shapefile is a file that describes a shape such as an airspace. Oddly, especially given the name, shapefiles describe all shapes as simple point-to-point line segments. The DAFIF data, by contrast, was richer in that it described complete shapes as series of line-line segments but also as circles and arcs (think about most Class B, C and D airspace). While the FAA system of using a large number of points to approximate a circle, rather than just saying something like "5 NM circle at -119.5w / 49n" works, it uses more data space so our data files are larger. More importantly, the FAA data is lacking a number of crucial bits of inflight information such as contact names and frequencies. Finally, and most troubling, the FAA shapefile data mentions upper and lower altitudes without reference to whether the altitudes are MSL or AGL. In most cases, the altitudes are clearly one or the other so our data processing attempts to interpret the altitude correctly but there will be many cases where we won't "guess" correctly.
We mentioned that the FAA is using shapefiles for most airspace. They have stated that they will eventually use shapefiles for all airspace, but they currently produce shapefiles for just Class B, C, D and E airspace. They do not produce shapefiles for Class A or any SUA. This means that we have no current source of Class A airspace but we do have SUA data because they publish the SUA data in an entirely different format elsewhere. We process the SUA data from this second source and merge it with the shapefiles for the primary airspace to produce a seamless data set. This SUA data is much more complete than what we get with the shapefiles; it mentions altitudes as AGL or MSL (usually!), includes contact information, etc.
We have been in contact with the FAA about these problems and they recognize the issues and are working on solutions but have no timeframe. In the meantime, please be aware that we are doing the best we possibly can with incomplete data.
Canadian and Mexican Data
Prior to the DAFIF cutoff on October 1, 2006, the Department of Defense provided us with current Canadian and Mexican data. Since that time, we don't have current data but have provided Canadian and Mexican data that was valid as of that date. As time continues, this data becomes less and less reliable. Therefore, we plan to drop the old Canadian and Mexican data entirely from the standard Voyager data set sometime in 2008.
We clearly recognize the value of this non-US data, not only for Canadian and Mexican pilots, but also for US pilots who fly north or south of the border. In keeping, we opened communications with Nav Canada. In 2006, we visited Nav Canada in Ottawa to try to obtain information comparable to what was available from the FAA. At the time, we learned that, unlike the FAA, which is a government agency with a primary mission to promote aviation safety, Nav Canada is now a privately held company with profit as a main motivation (conceptually similar to the US Post Office). During the meeting, Nav Canada told us that some data would be available at some point and that we should contact them again in a few months. Indeed, since that time, they have sent us sample data and we are soon to look at what processing the data entails. We do not know how much Nav Canada will charge for the data but we have reason to believe it will be in the hundreds of dollars per pilot per year. When we have reached an agreement with Nav Canada and have worked out the technical details, we'll make an announcement.
We have not made any provisions to get current Mexican data.
What This Means To You
If you are a US pilot who flies only within the 50 states, Puerto Rico, and the US Virgin Islands. you should not notice any major difference, in the long run, but should not be surprised to see some data difference and/or errors for a few data cycles until the FAA fixes the new format.
If you are a Canadian pilot or a US pilot who visits Canada, neither Seattle Avionics nor most other aviation companies can provide you with current data until Nav Canada provides it to us.