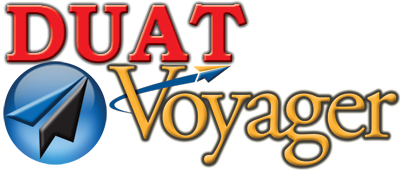 DTC DUAT and Seattle Avionics, Inc., announce new DUAT Voyager, a 100% free flight planner that makes it quick and easy to plan flights, obtain weather briefings, and file flight plans. While it downloads weather and TFR information from the Internet, it is not an Internet-based flight planner, and is not subject to the recently publicized FlightPrep patent.
It's based on the powerful Voyager Flight Software System that consistently wins Best Flight Planner from Aviation Consumer.
Read the press release. Read the story on AOPA's Web site.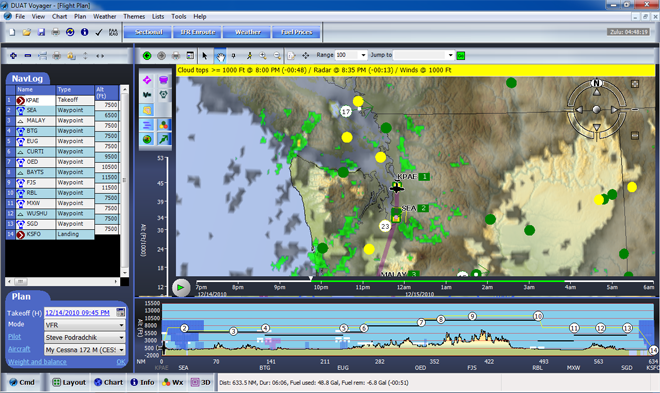 DUAT Voyager is a streamlined version of the full Voyager Flight Software System that retains many of the award-winning features of the full Voyager product but is faster and even easier to use. These features include both Victor and GPS Direct autorouting, a profile view that shows your flight over terrain, automatic background weather downloads, various weather overlays including NexRad radar and altitude-sensitive cloud tops (satellite images), full DUAT briefings, automatic TFR download and overlay, kneeboard printouts, electronic flight plan filing, and much more. Users can use Voyager's unique WebSynch feature to instantly transfer flight plans between multiple computers. Flight plans can be exported to Google Earth for realistic, 3D flight previews and exported to the Bendix/King AV8OR or AV8OR ACE.
Download Now
System Requirements: Any Windows 7, Vista, or XP machine with 2 GB of RAM should work. You can also use a Mac if you have Boot Camp (ideal), VMWare, or Parallels.
Note: Download traffic is extremely high right now. If you have a problem downloading from one location, please try another server. We apologize for the inconvenience.
ftp://seattleavionics.fileburst.com/pub/DUATVoyagerSetup.exe
ftp://downloads.seattleavionics.com/DUATVoyagerSetup.exe
http://seattleavionics.fileburst.com/DUATVoyagerSetup.exe
http://www.seattleavionics.com/Downloads/DUATVoyagerSetup.exe
What's the difference between DUAT Voyager and the full Voyager system?
DUAT Voyager is a great way to plan quick flights that take weather and TFRs into account. All for free. The full version adds literally hundreds of additional features. The most important ones are below. A detailed list is also available.
Wind-optimized, 3D autorouter that gets you there faster, using less fuel. Saves money on every flight.

Automatically adds fuel stops using prices downloaded daily from AirNav to find you the stops with the lowest possible fuel bill.

Export flight plans to your Garmin, or Anywhere Map GPS.

Much more customizable aircraft profiles so you can add climb and cruise performance for different altitudes.

Many more printing options including printing the charts.

True FAA seamless scanned Sectionals legally replace printed charts.

True FAA seamless scanned IFR Lo and HI charts and approach charts legally replace printed charts (requires IFR or EFB ChartData subscription).

Many more layers on the Chart (roads, rivers, obstacles, etc.)

Add your own Personal Waypoints and Personal Procedures
Other Screenshots